Holiday Ride for Giving
Join the Seattle Bicycle Friendly Business Network on Saturday, December 10th from 2p.m. – 4p.m. for a FREE holiday themed group ride and make a donation to those in need.
The ride will begin at Métier Racing and Coffee on E. Union St. where we will learn about their unique business that caters to the endurance racer in all of us. Guests can enjoy complimentary Métier coffee or tea, and beer provided by Peddler Brewing. Riders will then saddle-up and head to Red Balloon on 15th Ave. to shop for toys of your choice to donate at the end of the ride. For the last stop we will ride towards the Central District and reach our final destination, Electric Lady. With toys and donations in hand, we will cheers to those in need with more complimentary Peddler Brewing brews while browsing the inventory and supporting those less fortunate in our community. 
Feel free to bring a boxed toy, gift of your choice, or a cash donation for the YWCA. An extra special thanks to our sponsoring Bicycle Friendly Business Network members; Peddler Brewing, Metier Racing and Coffee, and Electric Lady for their support of this ride. If you have any questions, please contact Hannah Faires at hannahf@commuteseattle.com
Join the Ride in the Rain Challenge
In November, Commute Seattle will partner with Washington Bikes to promote the state wide Ride in the Rain Challenge. Ride in the Rain is designed to provide motivation and prizes for people to get out and ride a bike for any trip in the rainiest month of the year. The average November rainfall in Seattle is 5.84 inches. The volume isn't the slicking point however, its the fact that in November, December and January it rains nearly every day of the month. So WA Bikes is testing a theory. If riders can can gear up and get out in November then they are more likely to ride all year long.
Ride in the Rain is a fun competition where anyone can create a profile, log trips by bike and be entered to win prizes. Washington Bikes' prizes include: Mini Pumps and Low Profile Fenders from SKS, REI Gift Cards, waterproof Ortlieb Bags, Registration to Cascade Bicycle Club's events, and more!
Award categories: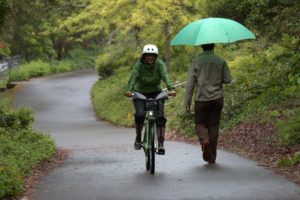 Individuals: Most overall trips, most commute trips, most miles, most overall trips among new riders, most commute trips among new riders, most miles among new riders.
Teams: Highest average number of overall trips per rider, highest average number of commute trips, highest average number of miles, most new riders on a team.
Organizations: Highest average number of overall trips, highest average number of commute trips, highest average number of miles, most complete teams (of four to ten people), most new riders, most riders.
How to participate
You can ride solo or form a team of friends or colleagues. Starting October 1, register for free and log your bike trips November 1-30. Remember to log your trips in a timely fashion, as you have a two-week grace period to go back and log trips before that date locks on the calendar.
At the end of the month, Washington Bikes will tally high achievers in several categories and award prizes to winners. Team Captains will receive a complimentary captains gift when picking up their challenge packets during the first week of November. Riders can compete against themselves, their teammates, or any other participant in the Challenge.
To help kick things off Commute Seattle will be hosting a Ride in the Rain pop up breakfast along the new Westlake bike path in South Lake Union. This breakfast will feature yummy treats and coffee, as well as a light up your ride Find out more here!
On the Ballot: Prop 1 (ST3 Light Rail) & Kitsap Foot Ferry
The November election is fast approaching. A number of big issues are on the ballot, not to mention an opportunity to choose the next President of the United States.
The most widely discussed is the Prop 1 ballot initiative (ST3). If passed, Prop 1 will provide 54 billion dollars toward expansion of light rail, commuter rail, regional bus service as well as regional pedestrian and bike improvements.
Commute Seattle's partners support Prop 1 because of the continued and urgent need for better transit access for people living and working in Seattle. The Downtown Seattle Association publicly supports the initiative and views the expansion of light rail as a necessary tool for continued economic progress in Downtown Seattle.
"As our region prepares to add over a million people in the next 20 years, it's clear that the need for an integrated light rail system is growing faster than we can plan and build it," notes John Scholes, President and CEO of the Downtown Seattle Association.
Find out more about the cost of the package and see the map of what would be built as a result on the ST3 website.
Other regional initiatives include;
Kitsap County
In Kitsap County voters will be able to vote in support of passenger only foot ferries to downtown Seattle from Southworth, Bremerton and Kingston. The addition of the foot ferry could make downtown Seattle a viable commute for more people while also freeing up money to add 23,000 more bus hours .
The half hour trips would operate much like the current King County Water Taxi and cost Kitsap residents and visitors 3 cents on every $10 purchase. Watch the video below for more information.
Kitsap Fast Ferries: November Decision from North Woods Productions on Vimeo.
Cities throughout King County 
Cities throughout King County will have a chance to vote on a number of initiatives improving neighborhood safety, congestion, improve or install sidewalk, trail and bicycle facilities, provide safe routes to connect people to schools, parks, transit and other services, and enhance maintenance and technology.
Seattle's Vision: Zero Deaths or Serious Injuries on the Road
A vision is a powerful way to lead. When a city can lead with a clear vision for the future it helps all community members hang their hats on a shared identity and sense of purpose. Seattle has joined cities around the world toward Vision Zero. The goal is clear. Zero traffic deaths. ZERO. This week in Seattle that vision took a step out of the shadows as city council-members Tim Burgess and Mike O'Brien joined Seattle Department of Transportation Director Scott Kubly to announce new speed limits city-wide.
If approved by Council, new speed limits would be reduced from 25 mph to 20 mph on residential streets and from 30 mph to 25 mph in the city center. Implementation could begin by November, beginning with new speed limit signs and continuing with enforcement and public education. The timing of the roll out is no accident. As soon as the time changes there is usually a significant uptick in collisions around the city. The city's 2015 Traffic Report shows nearly double the number of pedestrian collisions between summer and winter months.
Many of these crashes are now blamed on distracted driving, a catch-all category that includes messing with your phone while behind the wheel. Even as most states have banned texting while driving, the National Highway Traffic Safety Administration (NHTSA) notes that car crash deaths went up by 7.7% last year to 32,675. The number is not small.
Most of us know someone who has been in a crash; in our day to day lives we rush around trying to juggle work, school, childcare, social activities and more. The price of multi-tasking while driving is now the focus of worldwide campaigns. We look forward to helping educate commuters and community members with the Vision Zero team at SDOT in the future.
You can learn more about where city collisions occur most on this interactive Vision Zero Dashboard.
Check out some impactful public education campaigns we came across from NYC,
and Australia,

Critical Bike Link Opens Between Downtown and North Seattle
Photo Credit SDOT Photos
Seattle is about to officially unveil the largest section of protected bicycle lane (PBL) since opening the 2nd Ave PBL two years ago. That project gave the city a chance to pilot the building and maintaining of a downtown PBL, and gave bike commuters a taste for safe routes to work. Ridership has continued to increase over time and there has been an 82% drop in bicycle collisions.
Business owners along that path have also had time to adjust to loading zone changes and take stock of how bike lanes have impacted their business. Business owner Jenny Kelly has worked with SDOT to create a short video about her experience doing business along the path.
The city is in the planning process to unveil more PBLs through downtown and the neighborhoods, including an extension of the 2nd Ave. bike lane.
In the meantime, the Westlake Cycle Track will be officially unveiled on September 15. The planning that started in 2013 rolled into action early this year, and now the cycle track is complete. The corridor is flat and offers the allure of an enjoyable ride along Lake Union.
That enjoyable ride previously seemed just out of reach as bikers weaved through parking cars and strolling pedestrians along the winding 1.6 mile waterfront commercial area. Pedestrians will need to keep their heads up as they cross the busy path from their cars or after jumping off Metro route #40 to get to the sidewalk and businesses beyond. If Westlake follows most protected bike lane trends, having separated travel paths should decrease traffic conflicts for everyone.
Join Commute Seattle, Cascade Bicycle Club and the Seattle Department of Transportation in the official unveiling of the best new bike lane in town!
The event, which starts at the South end of the new Cycle Track in SLU Park where 9th Ave and Westlake Ave N converge,  will feature games, raffle prizes from local businesses along the path and an inaugural ride with Seattle Department of Transportation Director Scott Kubly. Be there by 5:30 for the speakers, raffle announcement and fun ride!